Neurotherapy Associates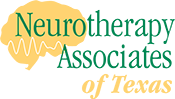 Neurotherapy Associates is a private practice located in Denton, Texas that serves the North Texas community, including Dallas, Fort Worth (DFW Metroplex), Lewisville, Flower Mound, and Plano. Richard Davis, M.S., LPC, BCN, owner and primary clinician of Neurotherapy Associates, offers a range of mental and behavioral health services that include neurofeedback, biofeedback, counseling, quantitative EEG (QEEG or "brain-mapping"), QEEG consultation and interpretation, and BCIA-mentoring.
Richard E. Davis, M.S., LPC, BCN
Richard Davis is a Licensed Professional Counselor in private practice in Denton, TX. He has a Master's degree in Counseling and Human Development from the University of North Texas (UNT) with a concentration in biofeedback, and he is Board Certified in Neurofeedback by the Biofeedback Certification International Alliance. He is trained in all forms of biofeedback, but specializes in neurofeedback and quantitative EEG (QEEG). He has been involved with biofeedback for 25 years and has worked almost exclusively with neurofeedback for over 20 years. He was a consultant to and a member of the training staff of the former University of North Texas Neurotherapy Lab. He is a former Treasurer and Board Member for the Biofeedback Society of Texas; and is a former two-term Treasurer and Past President of the International Society of Neurofeedback and Research (ISNR), Treasurer for the ISNR Research Foundation, and a former Board Member of the Association for Applied Psychophysiology and Biofeedback Neurofeedback Division. He also served on the Board of Directors for the Southwest Health Technology Foundation.